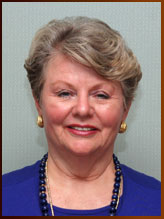 Carol McAdams, Secretary
McAdams Design
Dallas, Texas
Coming from an art background at Texas Tech University, Carol McAdams started McAdams Designs, a landscaping design company specializing in residential gardens. Considering each home a canvas, Carol uses the elements of design to create visually stunning outdoor settings which are extensions of her clients' homes. She has landscaped for numerous show homes, including for the Parade of Homes, Southern Living and Kappa Alpha Theta.
A tireless volunteer, Carol has served on the board of TMP almost since its inception, organizing several fundraisers as the ministry developed their training program and ultimately relocated to Harlingen.
Carol is an active member of Prestonwood Baptist Church. A native Texan, she lives in Dallas with Gerald, her husband of 46 years.
Of her affiliation with TMP, she says, "The excitement of serving on the Tell My People board is the joy of watching the creative process, imagining the possibilities for the organization and continually being amazed at what the 'Ultimate Creator' has in store."